The Yakuza franchise has been gaining a large Western following since the games have been slowly trickling West this generation. With success of Yakuza 0, Yakuza 6: The Song of Life and fans rediscovering the early games of the franchise with Yakuza: Kiwami and Yakuza Kiwami 2. There was very little doubt that the remasters of Yakuza 3, 4, and 5 would be coming to the West sooner rather than later. Today, we officially got to see The Yakuza Remastered Collection for the first time. The collection contains all 3 remaining Yakuza games, which are Yakuza 3, Yakuza 4, and Yakuza 5. All the games have been graphically upgraded to 1080p and a buttery 60FPS. The best part of this announcement? Yakuza 3 is available for download today if you purchase the collection which retails for $59.99 USD you gain access to all 3 games as they unlock. Yakuza 3 unlocked today, with Yakuza 4 is set to unlock on October 29th, 2019 and finally, Yakuza 5 will be coming February 11, 2020. If you are more of a physical collector there is a great physical edition that will be available on February 11th, 2020. The Day One edition offers a sweet throwback PS3 case as well as some more goodies with Yakuza 3, 4, and 5 all included.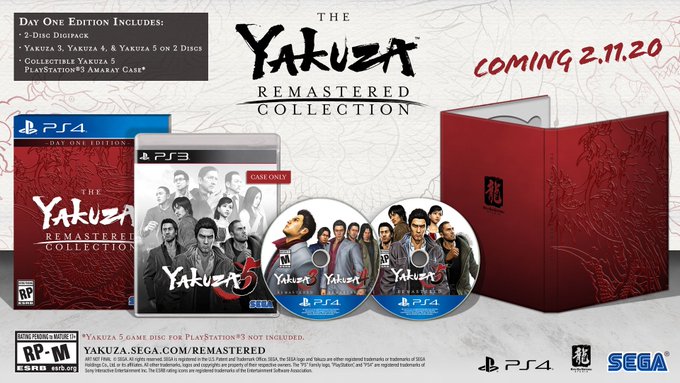 If you are interested to see what the games look like in action, check out the official trailer from PlayStation Europe below!
The Yakuza Remastered Collection Trailer
Will you be buying the Yakuza Remastered Collection? Let us know in the comments and don't forget to check back for the latest gaming news and information.