There is no doubt Nintendo has made big changes and moved well forward of the failure of the Wii-U. The handheld hybrid, Nintendo Switch continues to grow with a good Q2 showing with total sales reaching 3.5 million this quarter.  This brings Nintendo Switch lifetime sales to over 22 million, which is quite the feat as the Switch has only been on the market since March 3rd, 2017. In the past 6 month period, the Nintendo Switch sales are up 4% of the previous 6 months. Nintendo predictions for hardware sold this year remains at 20 million, with no doubt Nintendo predicting moving large numbers during the holiday season.
On the software front, Nintendo continues to show strong sales in regards to its first-party offerings, with Super Mario Odyssey selling 1 million copies in this quarter, with Legend of Zelda BOTW coming in close to a million in Q2 as well. This is the most recent graphic showing the best selling software on the Nintendo Switch. The with Super Mario Odyssey, Mario Kart 8 Deluxe and Legend of Zelda BOTW boasting over and close to 50% attachment rate is almost unheard of in the console space. It also worth noting that digital sales on the Switch have increased 72% in comparison to last year.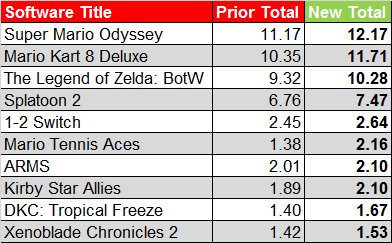 With these financial reports, we also can get a glance into what the first party software lineup is going to be shaping up to be for 2019.  With Metroid Prime 4, and Bayonetta 3 not having announced launch windows, and games with unannounced titles, Animal Crossing, Luigi's Mansion, and the highly anticipated Pokemon RPG.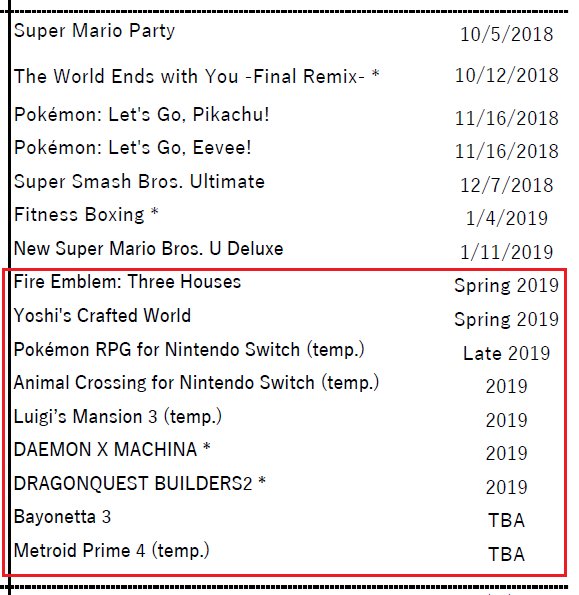 There is no doubt, that Nintendo had a strong Q2, and with the holiday season fast approaching, there is no doubt that the Switch will be one of the hot ticket items, thanks to a strong holiday lineup that features Let's Go Pikachu, Let's Go Eevee, and of course Super Smash Bro's.
What do you think of the continuing success of the Nintendo Switch? Let us know in the comments and don't forget to check back for the latest gaming news and information.